Esther Urlus
films
Dense, addictive, multi-pass, colour printing with trees shorn of their leaves transformed into thirty six layer deep technicolour.

Deep Red is an investigation into additive colour mixing on film. Handmade by a d-i-y silkscreen printing technique. Starting point are on black and white hi-con filmed trees shorn of their leaves. As if they're the reminiscent of branches seen flashing past in the night from the back seat of a car. Transformed into thirty six layer deep technicolour. Supported by Nederlands Film Fonds

Sound by VRIL: The Fatal Duckpond, soundtrack for imaginary films. The instrumental 'twangy' guitar band VRIL invited filmmakers to add some images to their music.

The film is showing a few scantely dressed women repeating the same action. Contact printed over and over again. Is it a spicy audition in the 60'ties, or is the test the film?

For the film a flatbed editing table is (mis)used as a contact printer. Raw stock and original film passing the lamp which light is reduced with grey and colour filters. Sometimes the raw stock is printed over and over again in multiple coloured layers.

An attack of imagined nostalgia for childhood. The applied do-it-yourself bas-relief print technique ensures a coloured image.
A gloomy narrative, in which we look back on a life, in the form of visions and memories.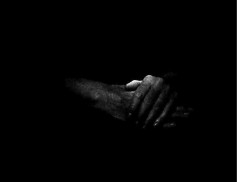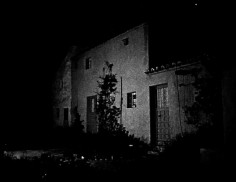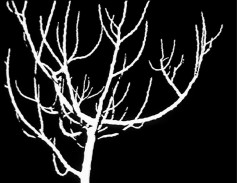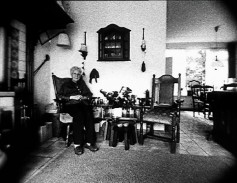 Deep Red - Dir/Prod/Cam: Esther Urlus
7'15 min, 16mm anamorphic blow up to 35mm, hand processed, 2012

Audition - Dir/Prod/Cam: Esther Urlus
3'15 min, 16mm hand processed & printed colour print stock, 2011
Idyll - Dir/Prod/Cam: Esther Urlus
6 min, 16mm hand processed and printed colour print stock, 2008
ISO - Dir/Prod/Cam: Esther Urlus & Kerlin Beute
9 min, 16mm hand processed b&w, optical sound, 2006
Abandoned Interieurs - Dir/Prod/Cam: Esther Urlus
7'40 min, 16mm hand processed colour negative, 2004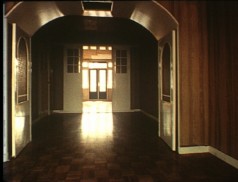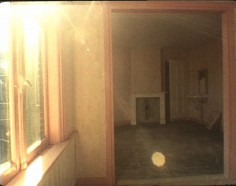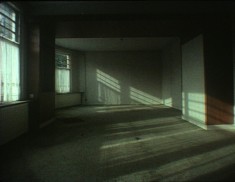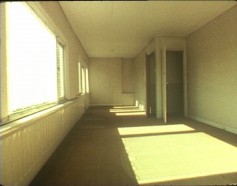 The film is showing a series of empty interiors of houses a few days befor their demolition due to urban renewal.
workshops
research
specs
books
bio
lab
Rode Molen (Red Mill) is a research into motion picture printing techniques. Starting point and inspiration for the film are the mill paintings of Piet Mondriaan, especially Rode Molen. In the film color is created by multiple exposures through different masks during printing. Depending what developing process is used the colors mix in two ways: additive or subtractive.
Rode Molen - Dir/Pro/Cam: Esther Urlus - Sound: Matt Kemp
5'15 min, 16mm hand processed and printed color print stock, 2013


A fictional re-enactment of a 5 minutes happening that took place during the Olympic games in Berlin 1936. Made on home brew emulsion and color toned with the helping hand of technical publications from early cinema and photographic experiments. The home brew emulsion as fragile metaphor for the heroism of Konrad and his horse Kurfurst. Falling from his horse he became a national hero but overtaken by history, an anti-hero.
Konrad & Kurfurst - Dir/Pro/Cam/Sound: Esther Urlus
7 min, 16mm tinted and toned handmade B&W emulsion, 2013/14
Chrome is inspired by the autochrome process, a colouring technique for black-and-white photographs invented by the Lumière brothers in 1903. In Chrome the images created by this process are 'amplified', as if they are viewed through a microscope: a constantly moving noise of grains that forms shapes and outlines. The images have been created by applying homebrew film emulsion in grain structures to transparent 16mm film with an airbrush. The resulting filmstrips have then been exposed and developed to black-and-white images. Layer by layer these images have been transformed to colour, resulting in teardrop-shaped figures that seem to be falling and fragmenting. The super-enlarged grain structures create unrecognisable shapes and apparitions.
The soundtrack was created with Huib Emmer, who created an electronic adaptation of a musical piece dating back to the time of Auguste and Louis Lumière, the pioneering days of photo- and cinematographics.

This film is part of the Vertical Cinema project commissioned by Sonic Acts, see for more information: verticalcinema.org
Chrome - Dir/Pro/Cam: Esther Urlus - Sound: Huub Emmer
7'40 min, 16mm blow-up to 35MM Vertical Cinemascope, 2013
Elli consists of a seascape shot from the spot that marks the start of World War II in Greece. However, it is also a follow-up to my inquisitive interest in colour mixing in film. In this case, the optical mixing created by various flicker effects.

Strong sequential changes in the frames-per-second series can cause physical reactions and the beholder will sense seeing colours and shapes. In this case the shape of a frigate (Elli Cruiser), laying motionless in a bay at anchor, which only seems to appear as an afterimage in various coloured flicker sequences.

The sound you hear is caused by the optical noise of film grain. Mastered through a written piece of code which chooses the sample size of the image and is triggered by luma (light levels) and the separate colour values for RG and B.
Elli - Dir/Pro/Cam: Esther Urlus Sound: Matt Kemp
8 min, 16mm phasing zebra loops printed to colour, 2015/16
Do your view of an image change when you know something horrific or disturbing took place in it? Even though you may not see (or recognize) anything? Its substantiation lies in the viewer's imagination, coloured by the dark ambient soundtrack. Deletion was shot on 16mm using home-made emulsion inspired by the more than a century-old autochrome colour process.

For Deletion I visited six locations in the Netherlands which in the (recent) past have caused a lot of commotion because they were the scene of disturbing and/or horrific crimes that have had considerable impact on society. On these locations I have shot black & white footage whereby I did not picture the landscape itself but where I took extreme close-ups of the "guilty" spots that are somehow reminiscent of a human shape or form. A swaying leaf, a bit of fabric fluttering in the wind, a torn plastic bag in the water.
Deletion - Dir/Pro/Cam: Esther Urlus Sound: Ji Youn Kang
12 min, 16mm handmade emulsion loops printed to colour, 2017
CTRL ALT ESCape from Rotterdam - Dir: WORM collective
Prod/Act/Cam: Esther Urlus 59 min, Super8&16mm & DV, 2009-2011
WORM's first feature-length movie on Super-8. With its main constituent and inspiration being a few thousand litres of freshly boiled fake blood, CTRL ALT ESCape was lovingly formed from an Autumn 2009 Filmwerkplaats workshop on the making of budget DIY feature films.
The first image in Hometown shows a kind of film set being demolished. Rather than being built, started off, here something is being taken down, ended. This is a good example of the unusual approach that will characterise the film. The search for 'traces and figures of heroism' and an 'imaginary fatherland' is not a simple adding up of separate parts. Rather, it is the search itself that is central - the straying, sensing and freely associating - more than attaining a sharp, clearly defined result.
A prominent role in this process is reserved for 'good old' 16mm black-and-white stock.
El Santo/Hometown - Filmwerkplaats Collective
67 min, B&W 16mmtotally produced&completed in our DIY lab, 2015
to my part
link
d-i-y