films
teaching
research
d-i-y
books
bio
lab
Esther Urlus
My 69 sec. as part of the 69 sec project - various ultra short 16mm films made by the artists of Filmwerkplaats (Rotterdam, the Netherlands). Each film is 69 seconds long (thats 15meter/50ft. of 16mm, a full Russian JOMO film developing tank). The duration of 69 seconds on 16mm was the only limitation, as each film was created from diverse perspectives, experimentations and concepts.

My part is loosely based on the sound on film experiments of Prof. Joseph Tykociner in 1921 and the golden record send to outer space on a Voyager spacecraft in 1977 containing messages to anyone who might someday find them.
The film is made out of four 16mm loops of B&W found-footage, printed to colour stock in several RGB runs.
you are not alone - Dir/Pro/Cam/Sound: Esther Urlus
69 sec, 16mm colour print, optical sound - 2017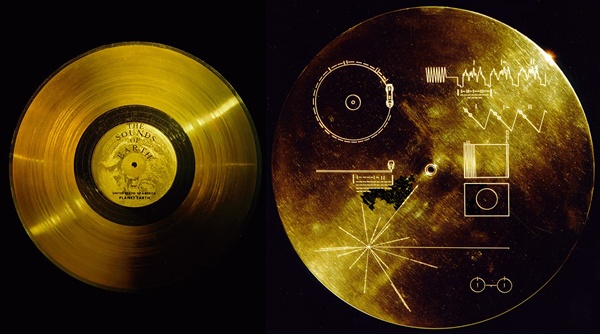 The Voyager golden record is a 12-inch gold-plated copper disc. Its cover aluminum electroplated with an ultra-pure sample of uranium-238. (Credit: NASA)
Joseph Tykociński-Tykociner demonstrates cinematic film composited with colinear optical audio track. Copyright is owned by the University of Illinois
performance