films
Current projecs I'm working on
Rode Molen (Red Mill)
35mm, 5'15 min, mono sound, 1.85 ratio, 2013
director, camera, edit, etc: Esther Urlus
sound: Matt Kemp
Just finished! Rode Molen (Red Mill); a research into motion picture printing techniques. Starting point and inspiration for the film are the mill paintings of Piet Mondriaan, especially Rode Molen. In the film color is created by multiple exposures through different masks during printing. Depending what developing process is used the colors mix in two ways: additive or subtractive. Supported by DKC Rotterdam. World première at 25 FPS in Zagreb 26-29 September 2013. http://25fps.hr/en/



Konrad&Kurfurst
A research onto homemade film emulsion, reticalation and tinting and toning. Re-inventing techniques from the time before colour film was created. Granted by Nederlands Film Fonds and CBK Rotterdam.
World première at IFFR Rotterdam 23-25 January 2014. http://www.filmfestivalrotterdam.com/nl/iffr-2014/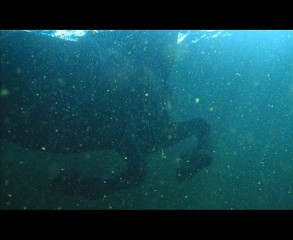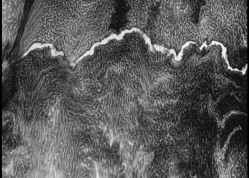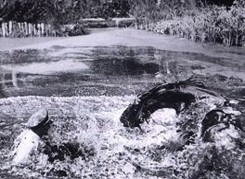 subtractive
additive
teaching
research
d-i-y
books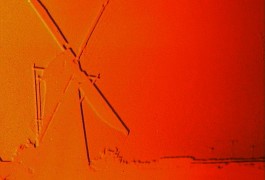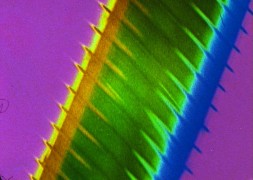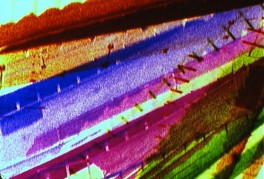 film stills from Rode Molen
Vertical Cinema: Chrome

Currently I'm working on a new film for the Vertical Cinema project: Chrome. The soundtrack is created by the Dutch composer of instrumental and electronic music Huib Emmer. The film will have its premiere during the Kontraste Festival on 12 October. Vertical Cinema is a project by Sonic Acts & Kontraste Festival 2013. In cooperation with Österreichisches Filmmuseum, European Space Agency and Filmtechniek BV, support by Mondriaan Fund.
http://www.kontraste.at/2013/#event-vertical

My Vertical Cinema project CHROME is inspired by the autochrome process. A coloring technique for B&W pictures from photography's earliest practitioners. An invention by the Lumière brothers and patented in 1903. A glass plate with microscopic grains of potato starch colored in red-orange, blue-violet and green, put in front of a B&W original, gave the illusion of a colored image.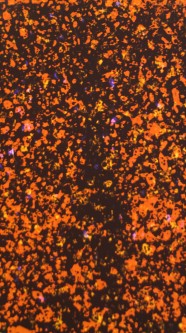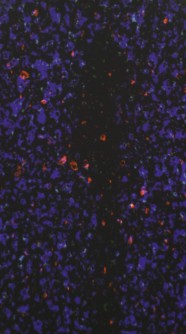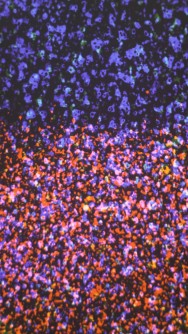 film stills from Chrome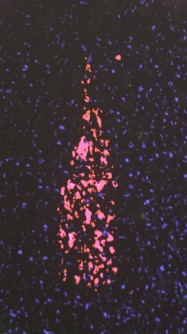 Re:Inventing The Pioneers: filmexperiments on hand made silver gelatin emulsion and color methods

A booklet I'm working on as a starters guide to home brewing light sensitive emulsion that's suitable to use on 16mm clear (transparent) film. Most recipes on making your own silver gelatin emulsion are for photographic purposes and coating glass plates or paper. Practically all of these recipes can be used on strips of 16mm clear film. A black & white emulsion is easily made with some silver nitrate, potassium bromide and gelatin. It's actually similar to making mayonnaise. The biggest challenges are to evenly coat the emulsion on a strip of 16mm clear film and make it possible that the coated film can run through a printer or film camera.

And…. I didn't want to make B&W film emulsion only, I wanted to go one step further (or actually back) by initiating a process that can put me on a trajectory where I will be able to make my own color film (in the literal sense). Not with the effort to find a way to make "proper" color stock with the realistic nature of contemporary film materials. In re-inventing emulsion and color film with the helping hand of technical publications from early cinema and photographic experiments, I'm hoping to achieve findings that are "something completely different and unique". This booklet is hopefully made with the same curiosity and in the context of, and as a tribute to, all these books and papers made by affectioned pioneers who where so keen to sharing their knowledge.

The starting point is the home brewing of a basic silver emulsion based on gelatin, potassium bromide and silver nitrate. To be able to resurrect the art, science, and craft of silver gelatin emulsions we need to experiment freely and share openly. It signifies a hope and commitment to making sure these techniques, tricks and handy tips remain openly available to all who might need them. Let's not keep any secrets! These (chemical) recipes, celluloid experiments and emulsion extras should be absolutely public. Let's make home brew emulsion films! Let's make a lot! Release 20-24 November 2013 at TIE experimental festival Colorado Springs, USA.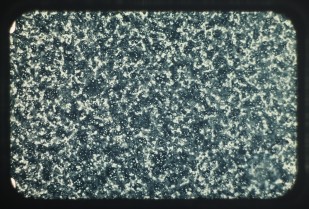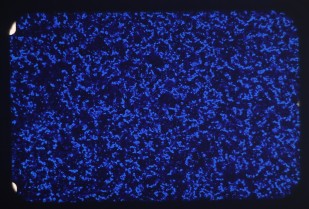 16mm film still of home brew emulsion
Iron Toning
16mm film still of home brew emulsion
Indirect Toning Methylene Blue
bio
lab
Esther Urlus